Thanks a lot to everybody who was involved in fulfilling this project:

Tanja Kischel & Georg Behringer
My friends and office-mates at Umwerk, Munich and also freelance graphic designers. General support, second opinion on graphic issues and hints at "plastic surgery" on noses, hands and fingernails! Visit their websites:
www.jigjag.de | www.geografisch.net

Benjamin Kischel & Claudia Geffert
Close friends and bicycle-enthusiasts. Thanks for hanging around at the office for a cup of coffee and a little chat every now and then. For custom bikes or carpenter's work visit Benny's website (which is still under construction):
www.derwirbelwind.de

Laura Ferrari
I bought some Benotto bartape on italian ebay and had real fast and friendly communication with Laura Ferrari of Montalbetti bike trader. Searching for possible translation partners, I remembered her and wrote an e-mail which was immediately answered with positive response to my request. At that point of time this was very encouraging to go on with the whole project. Unfortunately all of my following mails and attempts to get in touch remained unanswered for unknown reason ,-(
I hope everything is well in Italy!

Linda Pieri & Tobias Lütte
My neighbour Linda is from french speaking Switzerland - when I told her about my difficulties to find a french bicycle-mechanic, she and her boyfriend Tobias introduced me to Jean-Michel. Tobi bought a Bassi frame at Jean-Michel's shop in Montreal, the built bike is now often parked in our backyard.

Jean-Michel Cauvin
Jean-Michel Cauvin and Jean-Daniel Lafleur are running C&L Cycle in Montreal, Canada. Combining passion and craftsmanship to create lightweight bicycles, C& L Cycle brings local custom designed and manufactured parts to the Montreal market. Jean-Michel was super-fast with his translations and also a big support in many other aspects. Merci beaucoup!
www.clcycle.ca / www.bassibikes.com

Laura Passalaqua
Laura from Italy is running the tagtäumer café next door and provides our office with the daily dose of caffeine. When asked for somebody who speaks italian and also is into bikes she proposed Feder's sister's boyfried Piero. But …

Federica Failla
… turned out to be a professional translator for technical Italian/German and wanted to do the job herself! I know Feder for a couple of years now but this fact was completley new to me. If you ever need some translation write an e-mail to:
ff@brigl-consulting.de

Lorenzo Signoretti
One saturday an unexpected e-mail from Jean-Michel reached me. His friend Lorenzo helped a bit and attached to the mail there was a long list of italian terms that went straight into my layout and then to Feder for proofreading.
The japanese connection:
Since my only japanese friend at that time Hisako Yoshikawa, a professional piano player and teacher at the piano-school next door, is rather riding her bike than working on bottom brackets, rear derailers and those kind of things, I thought it might be a good idea do design a handout which I could spread in town to find somebody who speaks japanese and is also very familliar with the topic of bikes.
Hisako did the translation for the flyer, this is how it looked like: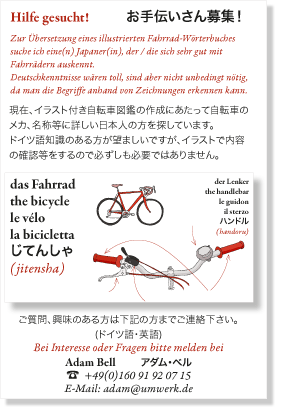 My plan was to go to the "Deutsch-Japanischer Stammtisch", a monthly regular's table of Germans and Japanese in Munich. After printing the flyers I decided to additionally put up posters at places which are frequently attended by japanese people.

Mikado München
… was the first place I went. It is Munich's largest japanese supermarket where you can buy japanese groceries and other cool stuff like high end wooden chop sticks. The shop assistent was so kind to put up my poster and I could also place some flyers next to the counter. Find more information about it here:
www.mikado-feinkost.de

Takeuchi Kiyoshige, 居酒屋 J-Bar Izakaya
After Mikado, J-Bar was my second location to ask for permission to put up my poster. It is a small japanese bar just a few blocks away from our office. When I asked the girls behind the bar about the poster they suddenly got very nervous. I could understand something like "Jitensha, Jitensha!" and they were calling for the boss Takeuchi Kiyoshige in the kitchen - it turned out that Takeuchi is a collector and fan of bicycles himself! Take-san did personally put up the poster and translated a couple of terms in the book.
ありがとうございます、たけさん!
Don't miss to drink some super-tasty Kirin beer and eat some authentic japanese Izakaya food when you come to Munich:
www.j-bar.jimdo.com

Genya Yoneoka
Weeks after I put up my "help-poster" at the Mikado supermarket, Genya unexpectedly called and offered his help on the japanese translation. ありがとう! Genya is running a platform to bring together all kinds of local artists and their clients:
www.kuenstlersuchenmuenchen.de

Noriaki Narushima
My first visit at the regular's table in summer 2104 was not 100% successful in the matter of bicycle but I met interesting people like Nori who is a blacksmith and forges japanese "Hocho" knifes from old rasps in Dorfen, a small town close to munich. He also offered his help with the book. Genya and I made a very interesting excursion to visit him on the countryside in the beginning of fall. Have a look at his knifes at:
www.nori-messer.de

Ayako Wada & Tomohiro Matsuhashi
The next time I went to the regular's table I got to know Ayako who is new in town to elaborate her piano skills at the "Hochschule für Musik". She introduced herself and told us that she was looking for a bicycle to ride across munich - a perfect match since I had a lady's bike to give away and still needed some help with the japanese translation! Her boyfriend Tomohiro in Tokyo is also into bicycles and together they completed a great deal of the terms.


Gert Maier

… of "Druckhaus am See" in Gmund next to the lake "Tegernsee" at the foothills of the bavarian Alps supplied me with several preprints of the book. As a paper sample or to get the colours right, these copies were also very helpul to show around at the regular's table and other occasions.
www.druckhausamsee.de

Iain McDaniel

Our friend Iain who was DJing at the bar next door for a couple of years and is now living in Brighton checked my english orthography. He found a couple of mistakes and proposed some other little changes ,-)


Georg Singer

Full-time plumber and gifted spare-time photographer. Dropping by at the office to share a cup of cappucino and the latest gossip, he also shared his thoughts and opinions about the project, helping me to make some decisions. Have a look at his photography at:
www.georgsingerfotos.de

recommended websites


www.wadoku.de - Japanese-German online dictionary.

www.mytenspeeds.com - Cool website on how to find and build vintage roadbikes with some useful workshops.

www.kinkicycle.com - Bikeblog from the "Kinki" region (Kansai) in Japan.

www.blog.radl-wadl.de - The frienndly Bikeblog from Munich.

www.rad-spannerei.de/blog - Big Bikeblog (and shop) from Berlin.

www.sheldonbrown.com - THE bicycle glossary by the great Sheldon Brown.

www.geocities.jp/jitensha_tanken - extensive bicycle glossary in japanese language.