"Milestones" of the project and other news
I will update this page every now and then. The "hot" news can be found on facebook - 9/2018: my facebook account and even my own website belldorado.de are rather unattended due to lack of time. Find me on Instagram for up-to-date stuff - right now I am "belldorado_munich" …
09.08.2016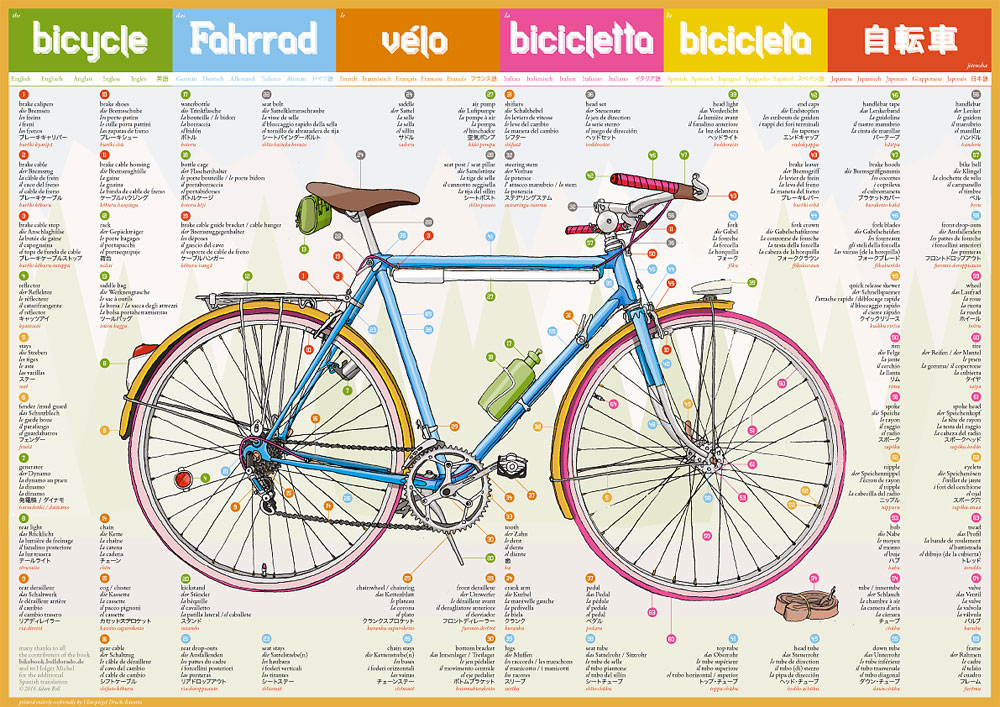 I came up with a new product: a multicolored poster in size DIN A3, similar to the book, of course with less terms (65) but with Spanish as a additional language. Something to put up in your apartment or workshop … It was printed entirely ecofriendly at "Ulenspiegel Druck GmbH & Co KG", a printshop close to Munich. Since it is brand new, you may not find it at all the places you can buy the book at yet, but I hope to make some progress in contacting my wholesale partners and do the distribution of the poster. Of course you can send me an e-mail if you would like to order a copy.
I am thinking of moving this site (and all the other sites I maintain) to a blog-software based platform to make updates like this a lot more comfortable. Until this happens, please excuse my laziness…



20.01.2016
I was very lazy filling this page with content but I posted all the news on facebook. The most exciting thing was visiting in Japan in November 2015 - many, many thanks to all the great people I met at Circles, Sim Works and Daisy Messenger in Nagoya, Danny of Kinkicycle in Nara, Koichiro Nakamura in Tokyo …

Also I'd like to mention the release of boneshaker mag issue #17 - there's a feature about the book in it. Thanks a lot to everybody at boneshaker mag!

The book is available in the US: Speed and Sprocket in Holyoke, MA is now carrying the book!


08.06.2015
Another two shops in Canada now carry the book: Fitz & Follwell in Montreal and Hoopdriver Bicyles in Toronto. On Nymphenburgerstraße, Munich, you can buy the book at Skiandbike shop.


20.03.2015
You can now find the book at Panorama Radsport bike shop in Munich - Neuhausen and Lost Weekend bookstore and vegan coffee-shop close to Munich's "Ludwig-Maximilians" university.


04.03.2015
Emmanuel Lowi suggests the following text corrections for English


Page 8, 9 + 18, all the "breaks" are "brakes" of course, sorry for overlooking those
Page 8, "seat post binder bolt" instead of "post clamp bolt"
Page 11, "square tapered spindle" instead of "tapered square spline"
Page 12, "crank arm" instead of "crank"
Page 18, "coaster brake" instead of "back-pedal break"
Page 19, "brake cable housing" instead of "brake cabel housing"
Page 21 + 21, "derailleur" instead of "derailer" - French spelling is used in English
Page 23, "bottle cage" instead of "waterbottle clip"


plus a french suggestion for page 15: "boyau" can be used instead of "pneu tubulaire" - if you have two of them, it's "boyaux"


Daria suggests to replace "roll" on page 34 by "coast". A better german term for "Fixie" is "Bahnrad".


26.02.2015
More points of sale in Germany: Mario's Velo Wahn in Munich - Sendling, Suicycle Store in Hamburg - St.Pauli and Schicke Mütze in the heart of Düsseldorf. Thank you Mario, Jan & Carsten (and everybody else at those shops)!


17.02.2015
Here are some corrections to the text:

FRENCH backcover - The current text in French makes no sense unless one reads the German or English version and needs to be edited to "Ceci est un dictionnaire illustré sur le vélo en cinq langues. Grace aux nombreuses illustrations en couleur, les 275 pièces et termes cyclistes traduits sont facilement identifiables."

Genya did some proofreading on japanese an came up with the following changes:

Page 2, contact information:
ご質問、ご意見、ご感想はEメールで受け付けております。

Page 3, Intro:
私はグラフィックデザインの仕事をしています。仕事の合間に自転車好きの皆さんが利用できるような独英仏伊 日語に対応している自転車図鑑を作りました。私自身鉄製のヴィンテージ自転車をもっております。そしてこの 図鑑はヴィンテージ自転車についてのみの事柄が記載されているわけではありません。ヴィンテージ自転車以 外の事柄についても記載されています。いろいろな自転車についての事柄が記載されたこの図鑑が自転車愛 好家の皆さんに利用され、皆さんが満足できるような内容にしたいと願っております。とはいえ、慎重な作業にも 関わらず、残念ながらこの図鑑にはいまだ多くの誤りが含まれております。もしよろしければ誤った表現、用語な どをご指摘いただければさいわいです。

Page 24, the lighting installation:
照明器具 / shōmei·kigu

Page 26, small parts:
小さな部品 / chiisana-buhin

Page 32, broken (the one in the dot):
破損 / hason

Page 33, the hole:
パンクの穴 / panku·no·ana

Page 39, the cyclist, some additions:
a cyclist using a racebike: ローディ / rōdii
a cyclist using a moutainbike: マウンテンバイカ / mauntenbaikā
somebody riding a "mamachri" ladys bike: チャリダー / charidā

Page 40, where to buy the book:
購入についてのお問い合わせ先


17.02.2015
Going international: the first batch of books is on their way to Sim Works, a big bicycle supplier based in Nagoya, Japan.


11.02.2015
Some more bike shops in Munich do now carry the book: Ski und Bike, Almtrieb and Radwerk. And it is also available in Berlin at Keirin Cycle Culture.


16.01.2015
Looking for places to sell the book, by now I found the following:
Mikado Feinkost, Munich's largest shop for japanese grocery and other products from Japan
A couple of decent bikeshops in town:
Munix Finest Bicycles, the shop is packed with bikes and equipment from the floor up to the ceiling!
Velothek, small shop that is run by one man with a penchant for steel frames
Bikesport Muenchen, location in Munich "Schwabing" specialized on "Specialized" modern Road-, Mountain- and Trekkingbikes
Joes Garage, these guys are not so much into selling products, they prefer repairing bikes. But they have one copy of the book to showcase.
All the staff I met at these locations were really friendly and I guess they all do a good job. Thanks!

17.12.2014
The book is now available at Umwerk, Munich & Giesinger Buchhandlung, Munich
The first copies are on their way to C&L Cycle, Montreal, Canada. Might even arrive there before christmas …


12.12.2014
The books have arrived!!!
… and they look great!


08.12.2014
The first version of this homepage is uploaded to the internet.


03.12.2014 - 15.30
Ouch! The printing plates are made and I detected the first bug: on page 40 I forgot to delete a dummy-webaddress behind the name of Lorenzo Signoretti. This link will lead nowhere (unless you wan't to register this domain - it's vacant ,-) As soon as I receive a proper webaddress for Lorenzo, you will find it on the link page.


03.12.2014
The final release specimen arrived today. Everything looks good so I gave the go-ahead for printing!